About ENAGEGATE
We are selling the calcium powder adsorbed hydrogen. This calcium powder is usually applied in foods, supplements, and also cosmetics.
Hydro Calcium Powder
Characteristics of Hydro Calcium Powder
Hydrogen is an excellent antioxidant molecule that exists in nature in a vapor state. There are many challenges involved in handling and stabilizing it.
At our company, we took a closer look on portability, method and timing of intake, and storage stability. In order to create a stable environment in the body with larger amounts of dissolved hydrogen, we developed and obtained a patent on a procedure enabling absorption of hydrogen into a specific powder base (immobilizing and stabilizing hydrogen).
Hydrogen water has been a topic of interest over the past few years. There are many potential challenges concerning how it is ingested, portability, and retention period because hydrogen dissolved in hydrogen water diffuses quickly on contact with air. It must be consumed immediately, which may be problematic, especially for the elderly.
Our Hydro Calcium Powder is different from hydrogen water in terms of stability, the timing and amount of hydrogen gas released, and characteristics where hydrogen molecules are absorbed in powder. As long as the powder remains dry, hydrogen molecules remain attached in a stable manner.
Another significant feature is that unlike previous mineral-based hydrogen absorption powder bases like fossil corals and oyster shells, this product utilizes Miyakojima calcium extracted from the waters off Okinawa's Miyakojima Island, to more efficiently absorb highly concentrated hydrogen molecules.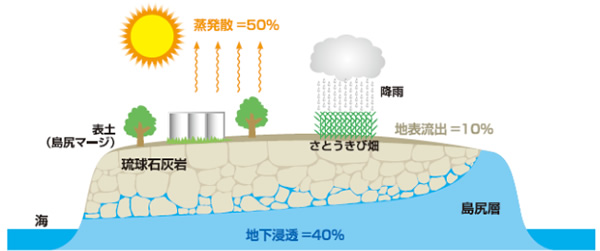 Miyakojima Calcium—a gift from nature
Calcium used in hydrogen absorption material
Unlike the surrounding areas of Okinawa's main island, Miyakojima Island was formed from an uplift of the world's youngest Ryukyu Limestone (coral reef). Based on research and studies of various materials using our patented hydrogen absorption processing technology, we found that calcium deposits on Ryukyu Limestone*1 from the groundwater in the south central region of Okinawa to be highly capable of hydrogen absorption.
Calcium is extracted by a crystallization method from the groundwater of Miyakojima Island, which is a coral island consisting of layers of Ryukyu Limestone. The extracted calcium is used as a nutritive material for food.
The main component is calcium carbonate with a calcite crystal structure, which has a unique naturally porous form.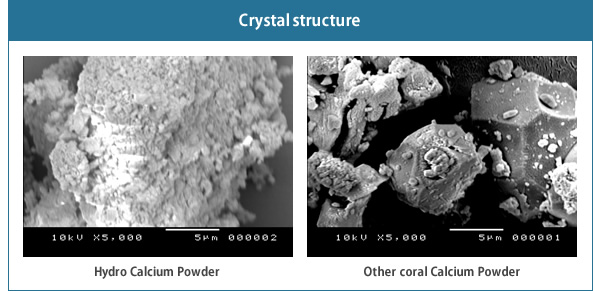 *1) The strata in the south central part of Okinawa's main island is composed of corals. Remains of foraminifera date back 1.3 million to 400,000 years, making it the single youngest limestone layer in the world. Because of its young formation, the stratum is soft and calcium deposits in the groundwater exhibit a porous form.
Hydrogen absorption mechanism and manufacture patent
Hydrogen absorption mechanism
Hydrocarbons that are depolymerized with catalysts are incorporated into calcium's mesoporous crystal structure using a molecular sieve. Then, by local production pyrolysis, they are broken down into other substances, including hydrogen molecules.
Hydrogen molecules are believed to be absorbed by calcium's mesoporous crystal structure following the Langmuir absorption isotherm. Each individual molecule from unclustered hydrogen molecules is absorbed into the mesopore.
Patent No. 4472022 Hydrogen gas-containing calcium carbonate: description and manufacturing method"
Hydrocarbons → catalytic depolymerization → supplementation in mesopore by molecular sieve method → calcium with mesoporous crystal structure → hydrogen is absorbed in mesopore by local reduction pyrolysis → volatile components other than hydrogen are removed and only hydrogen molecules are absorbed → once it comes in contact with water, water molecules push the hydrogen molecules out and release unclustered hydrogen.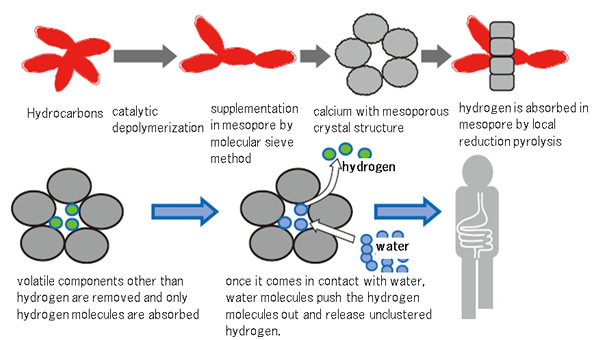 Data analysis of hydrogen absorption quantity using gas chromatography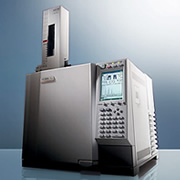 In order to accurately measure the amount of generated hydrogen molecules, and to use the numerical values as an indicator, we conducted measurements and analysis using a world-standard gas chromatography method, and made the data available to the public.
Test values in ORP tester, etc.
Numerical values of ORP (Oxidation Reduction Potential) tester are sometimes used as an indicator for hydrogen measurement, but it is difficult to determine precisely if it indicates the reduction force of hydrogen, or how much hydrogen is occurring, because this testing method exhibits extreme reaction to heavy metals.
Specifications